<![CDATA[
Whenever I read Proverbs 31:10-31 it can be pretty demoralizing. I feel the weight of striving to be the "godly wife" described in it and honestly, it sounds impossible. Looking at the craziness of this season of our lives with lovely little babes, I'm not always sure how to connect the dots between my day to day messiness and the Godly wife described here. Take for example, verses 11-12, "The heart of her husband trusts in her, and he will have no lack of gain. She does him good, and not harm, all the days of her life." Pretty sure my sassy-sour response to my husband this morning doesn't qualify as doing him "good." Honestly, I think I've simply been reading this chapter wrong my entire life. When has the gospel ever been something we strive for? As I go back and reread all of these verses my heart is lifted and the weight is shifted. These words were never meant for us to live up to, but rather, they are the fruit produced from the gospel at work in a woman's heart.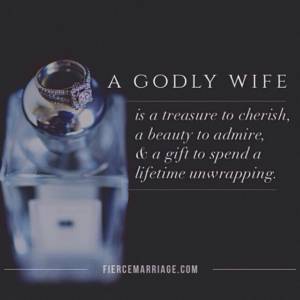 No More Striving
In other words, the woman who fears the Lord – who's heart has been infused and saturated with the gospel will bear fruit and simply be the woman described in Proverbs 31:10-31. These are not prescriptive words for us to try our best to live up to because I'll be the first to admit failure. The beauty here is that there's no pressure to do in order to be a Proverbs 31 woman, you simply are because of Jesus and who He is. She is not someone we are striving to be like; she is us. She is who we are when we die to ourselves (Colossians 3:3) and our lives are hidden in and renewed by Jesus (Colossians 3:10).
I don't know about you, but this is a liberating epiphany to my weary soul. When I go back and read these verses through the lens of the gospel, it is rich, life-giving and renewing. There is no pressure or standard I am striving for, it is who I am because of Jesus. Praise God!
Read It Again
Now I realize this may seem like a lot of scripture, but friends, let's read these words again, from an understanding that these are words describing a woman who's entire being is completely rooted and found in Jesus. Her soul is one that is overtaken by His goodness and she is being both observed and encouraged in all that she is, not who she is striving to be.
Proverbs 31:10-31ESV,
The Woman Who Fears the Lord
10 An excellent wife who can find?
    She is far more precious than jewels.
11 The heart of her husband trusts in her,
    and he will have no lack of gain.
12 She does him good, and not harm,
    all the days of her life.
13 She seeks wool and flax,
    and works with willing hands.
14 She is like the ships of the merchant;
    she brings her food from afar.
15 She rises while it is yet night
    and provides food for her household
    and portions for her maidens.
16 She considers a field and buys it;
    with the fruit of her hands she plants a vineyard.
17 She dresses herself with strength
    and makes her arms strong.
18 She perceives that her merchandise is profitable.
    Her lamp does not go out at night.
19 She puts her hands to the distaff,
    and her hands hold the spindle.
20 She opens her hand to the poor
    and reaches out her hands to the needy.
21 She is not afraid of snow for her household,
    for all her household are clothed in scarlet.
22 She makes bed coverings for herself;
    her clothing is fine linen and purple.
23 Her husband is known in the gates
    when he sits among the elders of the land.
24 She makes linen garments and sells them;
    she delivers sashes to the merchant.
25 Strength and dignity are her clothing,
    and she laughs at the time to come.
26 She opens her mouth with wisdom,
    and the teaching of kindness is on her tongue.
27 She looks well to the ways of her household
    and does not eat the bread of idleness.
28 Her children rise up and call her blessed;
    her husband also, and he praises her:
29 "Many women have done excellently,
    but you surpass them all."
30 Charm is deceitful, and beauty is vain,
    but a woman who fears the Lord is to be praised.
31 Give her of the fruit of her hands,
    and let her works praise her in the gates.

She's not who I thought she was…She's more!
My fierce friends, let's be encouraged and built up in the knowledge and goodness the gospel brings to our souls. By finding our identity and acceptance in Him we are free to do good and not harm to our husbands. Being the new creation we are in Christ (2 Corinthians 5:17) means our willing hands in our home and to our husbands are not a symbol of being "less," but of our love for him. We can be clothed in strength and dignity and live without fear – laughing at the time to come because Jesus has secured our forever and that is enough. Being idle is not an option for us when we are in Christ because he helps us see the needs of our household and we can take joy in meeting those needs because of Jesus. There is no formula to becoming the Proverbs 31 woman – she simply is because of who He is.
Ivory File
auto-gathered this post from
Fierce Marriage
]]>